Resources
École supérieure d'aménagement du territoire et de développement régional provides its students with resources both inside and outside the classroom.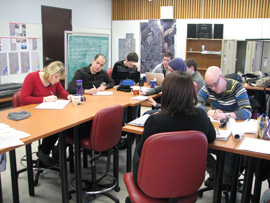 Urban Planning Workspace
Room FAS-1714. Master's students have several computer stations and tables at their disposal for annotating and analysing large plans.
---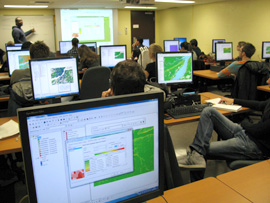 Computer Laboratories
Rooms FAS-1513 and FAS-1630. Students have access to two computer laboratories at ÉSAD.  One is reserved exclusively for the professors and students in the professional Master's program (essay). It contains 22 stations and is open 24 hours a day.  The other laboratory contains several high-performance machines and is often used for intense data processing, cartography or group work.
---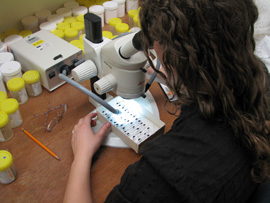 Ecology Laboratory
PhD and Master's students in the Environment research program (M.ATDR – thesis) have a work area and specialised equipment at their disposal, including high quality stereomicroscopes and a system for processing ground samples.
---
Wireless Internet (Wi-Fi)
Free Wireless Internet access is provided on campus to members of the university.  Information on the proper settings and configuration is available on the Direction des technologies de l'information website (DTI, in French only).
---
Mobile Laboratory
A minivan, used for site visits and transporting supplies, is available to members of the university community upon request.
---
Drinking Water Laboratory
The Research Chair in Drinking Water, one of the research teams at ÉSAD, has a laboratory dedicated to research work by Master's and PhD students.  It contains analysis, experimentation and site equipment for collecting data for monitoring the physical, chemical and microbiological qualities of drinking water, both at the source and within the distribution network.
---
GIS + Planning = SIGAT (Land Use Planning Information and Management System)
Following an agreement signed in 2004 by Laval University and the Ministry of Municipal Affairs, ÉSAD has access to the Système d'information et de gestion an aménagement du territoire (SIGAT or Land Use Planning Information and Management System).  SIGAT seeks to modernise the city's schema d'aménagement du territoire (Land Use Development Plan) revision and update process through easy consultation and geo-reference modification information relating to the metropolitan area.  This tool is accessible through the university library's Centre Géo/Stat site, and is limited to members of the university community.
---
RÉATUL
RÉATUL (Le regroupement des étudiantes et étudiants en aménagement du territoire et développement regional de l'Université Laval or the Association of Students in Land Use Planning and Regional Development) is a student organisation that brings Master's and PhD level students together at ÉSAD.